The New Kingdoms is an RP Canon which started ten years after The Dragon Crisis. In this Canon, Skyrim has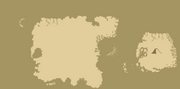 many Factions, and the majority are trying to Unite the Province, while others are trying to destroy it.
4E 211- The Battle for Shor's Stone
4E 226- The Second Oblivion Crisis
4E 236- Vulcan's Rage and conquest of the Ash Pit, Raydin's Ascension
4E 237- The Re-creation of Roscrea, the Conquest of The House of Troubles, Ulyssian Conquest, Recreation of the Grimleal, Conquest of Cyrodiilic Territory
4E 239- Formation of Fraxinus Imperium
4E 240- Formation of Bosmeri Dominion
4E 241- End of Mundus and the Beginning of Vulcain. Steelfangs leave Mundus by their own will.
5E 9- The Settling of Vulcain
Trending pages
All items (165)
A
B
C
D
E
F
G
H
I
J
K
L
M
N
O
P
Q
R
S
T
U
V
W
Community content is available under
CC-BY-SA
unless otherwise noted.