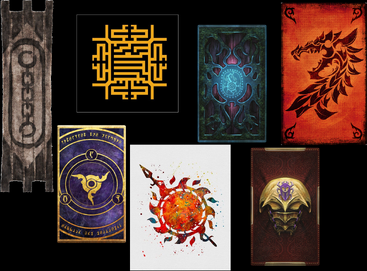 A Great House is a noble Dunmeri house that controls a seat on the Grand Council.
Each Great House is made up of a House Council, which governs the Great House. Decisions on the House Council affect the House, decisions of the Grand Council affect all of Morrowind. Unlike the Grand Council, there is no limit to the number of seats on a House Council.
At one point, non-Dunmer could join the nobility of Great Houses. Following the Redoran's rise to power this has been outlawed. The highest rank a non-Dunmer can reach is Lawman.
It was decreed that the Council should return to its original numbers which Redoran said lay at seven, considering the original historical Great Houses to be Redoran, Indoril, Telvanni, Mora, Dres, Dwemer, and Dagoth. Following this decree, Sadras was raised to replace the fallen Hlaalu, and Indaram and Uvenim were elevated.
The Great Houses frequently fight amongst themselves in what are called "House Wars." Small skirmishes and conflicts in which the Great Houses jockey for power amongst themselves, either over land, wealth, or control of the Grand Council. All Houses occasionally engage in House Warfare, although House Redoran tries to remain above it, and those who serve the Temple are expected to remain neutral.
Great Houses
Map