Nigh-Omnipotence is the ability to possess ultimate power, with certain limitations. It's also a lesser version of Omnipotence.
Also Called
Edge of Omnipotence
Near-Supreme Power
Nearly Above-All
Semi/Near/Virtual Omnipotence
Capabilities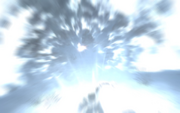 The user wields almost supreme power, but they are limited due to a certain element they're missing that limits their power and prevents them from gaining true omnipotence.  Despite that missing element, the user wields unimaginable levels of power and can achieve a near-limitless number of effects with their near-omnipotent abilities.
Applications
Complete arsenal, except the power to defeat someone stronger.
Biological Manipulation
Creation
Chronolock
Cosmic Manipulation
Destruction
Elemental Manipulation
Omni-Magic
Space-Time Manipulation
Supernatural Condition
Superpower Manipulation
Transmutation
Limitations
By definition, the user is in some ways limited. This may be inability to affect something, do something in particular, or being limited to certain spatio-temporal/dimensional area. Common weaknesses include:

Weak to a certain items, weapons, abilities, or concepts.
Not being able to alter others' free will.
Being harmed or killed by beings with a similar/higher level of power.
Users are not Invincible.

One could go insane with all the power they possess.
In most cases, one could not fully control the power they possess.
Wielders