Vodahmingeinwolostfuskhond

Race:

Unknown (depicted as dragon)

Gender:

Unknown (Depicted as a male)

Age:

Unknown

Status:

Alive

Factions:

Cult of Vodahmingeinwolostfuskhond

Titles:

Destroyer, Dark god, Bringer of the end

Place of birth:

Akivir

Family:

Brother(s): Deceased

Sister(s): Deceased
Hatchling hood:
During Vodahmingeinwolostfuskhond's hatchling hood he was perfectly normal, he had red scales and bright emerald eyes. He had no mother or father due to being the first true Dragon, but he had no siblings, he had to fend for himself. He was a quick learner and quickly conquered any beasts that dared attack him.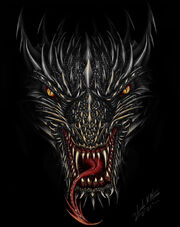 Community content is available under
CC-BY-SA
unless otherwise noted.